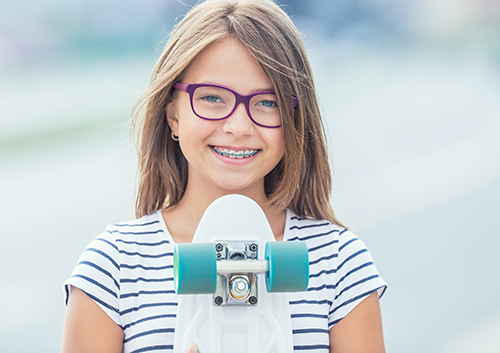 Wearing Braces? Make Cavities a Remote Possibility
Press Pause
If you are getting braces in the near future, it's very important to see your regular dentist first. That way, any cavities or other dental problems can be treated before your first orthodontic appointment at our Burlington, ON office.
Play it Safe
Once you have your braces, you'll hearing a lot about how you need to be especially careful with your dental hygiene. Why? Because wires and brackets are obstacles to getting your teeth and gum area their cleanest. Plaque and food particles tend to stick to braces, and all too often can be missed while brushing. Plaque builds up around your gum line and brackets, and, in a very short time, can lead to sensitivity, demineralization, and cavities.
What can you do to prevent tooth decay?
Increase Your Brushing Time
Instead of brushing twice a day, start brushing for two minutes after every meal. Put together a travel bag with a small toothbrush, toothpaste, floss, and interproximal brushes to clean your teeth when you're on the go. If you absolutely can't brush, rinse carefully with water, and then brush as soon as you can.
Flossing—More Important than Ever
Use the flossing tools designed just for braces to make sure you've removed food particles and plaque from around your braces and gums. A water flosser can be helpful if manual flossing isn't effective.
Keep Up with Your Regular Dental Care
Schedule regular checkups and professional cleanings at your dentist's office. They will be able to remove plaque you might miss at home.
We'll give you instructions on how to brush and floss, what products to use, and diet suggestions (such as keeping sugary and sticky foods off the menu and away from your braces). If we notice plaque building up around your gums and brackets, we'll let you know that you need to step up your hygiene habits. We can also suggest rinses and toothpastes that help fight plaque.
But if, despite all your efforts, you do get a cavity? There are options!
Not an option. You shouldn't wait until you are out of braces to get a cavity treated. This just gives decay a chance to spread further.
Repairing a cavity means removing the decay in the tooth, cleaning the area, and then filling the tooth. If your cavity isn't located near your bands, brackets, or wires, your dentist might be able to work around your braces, and you can get your cavity treated during a regular dental appointment.
Removing Parts of Your Braces for Treatment
Sometimes a cavity is located in a spot that your dentist can't reach because of your braces. In that case, we're able to coordinate with your dentist and remove a wire or bracket temporarily so you can have your tooth filled. Make an appointment to replace your bracket and re-attach your wire, and you'll be back on schedule as soon as possible.
Fast Forward
Keep your eyes on your goal–you're in braces because you want a beautiful smile. Keeping on top of your dental health is an essential part of creating that smile. Talk to Dr. Hurd about tips for getting your teeth their cleanest. If you do develop a cavity, we'll help you figure out the best way to treat it without causing too much delay in your orthodontic treatment. Taking care of your teeth now is the best way to create a future of beautiful smiles!