Our practice is committed to providing you and your family with safe, gentle, and high-quality orthodontic care. We understand that you or your child may feel anxious about visiting the orthodontist. We are sensitive to your needs, and it is our goal to make you feel comfortable visiting our practice while we provide you with the best possible care.
Your first visit is all about you: your comfort, your happiness, and your health
During your first visit, we will review your dental and medical history forms, and take images of your teeth and mouth. Then Dr. Hurd or Dr. Tomson will meet with you to discuss your case, to help you create your individual treatment plan, and answer any questions you may have.
All treatment options will be presented to you in a manner you can understand. After you leave the office, you will receive a letter that outlines the proposed treatment; this will also be sent to your family dentist so he or she is aware of your treatment goals as well.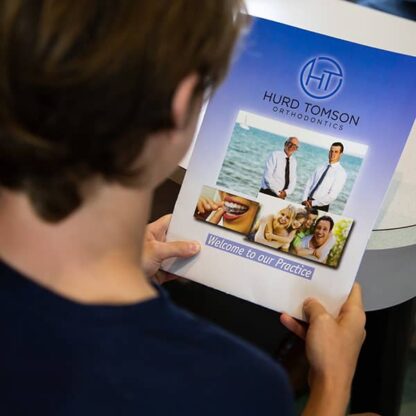 What is a typical visit once the braces have been placed?
We can appreciate that people today are busy and their time is valuable. Therefore, we offer convenient appointment times before school, during lunch, and after school for regular visits.
These appointments typically take 15 minutes: We change your elastics and wires and ensure the braces are helping produce a beautiful result. Expect these appointments to take place every 4 to 12 weeks.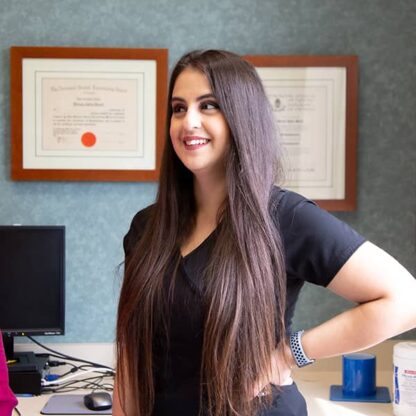 Regular checkups are an important part of maintaining a healthy smile!
The Canadian Dental Association recommends a visit to your dentist every six months for regular checkups and routine teeth cleanings to keep your teeth and gums healthy. At Hurd Tomson Orthodontics, we love straight teeth, but only if these teeth are clean and healthy!
While the braces are on, we may recommend you see your family dentist even more frequently. We believe that our office, your family dentist, and, most important, you, all play an essential role in producing a beautiful, healthy smile.